The
Arbosana
Extra Virgin Olive Oil would be great with this one!
This recipe is traditionally one of the first things French children learn to make. Since the size of a yogurt container is about ½ cup, you can simply wash the container and let your kids do all of the measuring with the yogurt cup. My daughter thought it was the funniest thing to make a cake using yogurt and the yogurt cup. I've also included traditional measurements if you prefer to use normal measuring scoops.
Prep: 15 min
Cook: 45 min
Total: 1 hour
Yields 1 small cake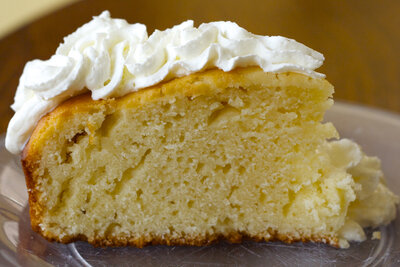 cooking spray
Preheat oven to 350°F. Generously coat a 9' cake pan with cooking spray and set aside.
6 ounces vanilla yogurt (preferably full fat)
Pour yogurt into [ ... ]
Read More
We slightly modified this one... Use the Arbosana Olive Oil instead of the vegetable oil. We guarantee you won't regret it!  If you like the idea of a brownie that's been transformed into a doughnut and infused with espresso, then this recipe is for you.
Prep: 15 min
Chill: 30 min
Cook: 30 min
Total: 1 hour 15 min
Yields 18 doughnuts
Preheat oven to 325°F. 2 cups all-purpose flour ½ cup unsweetened cocoa powder 2 tablespoons instant espresso powder 1 teaspoon baking soda 1 teaspoon sea salt In a large bowl, combine flour, cocoa powder, espresso powder, baking soda, and salt. 2 eggs In a small bowl, beat eggs. 1 ½ cups packed brown sugar 1 cup milk ⅓ cup vegetable oil 2 teaspoons
vanilla extract
Add brown sugar, milk, oil, and vanilla extract to bowl with eggs. Whisk until smooth. Pour liquid ingredients into larger bowl with flour and whisk until fully incorporated. Measure out [ ... ]
Read More
The deep, rich flavor of black raspberries is dramatically enhanced in this pie by balsamic vinegar and tempered with honey to create one of our favorite dessert recipes yet. If fresh black raspberries are not in season, you can use fresh blueberries instead for equally amazing results.
Prep: 40 min
Cook: 1 hour 10 min
Total: 1 hour 50 min - Serves 8
Dough
2 ⅔ cups all-purpose flour Measure flour into a large bowl. 2 teaspoon salt ¾ cup vegetable shortening Add the salt and shortening. Using two dull butter knives or a pastry blender, blend the flour, salt and shortening until the shortening is the size of peas. 10 to 12 tablespoons ice cold water Fill a wide-mouthed glass with ice. Add water to the top. Measure or pour the ice cold water into the flour mixture. Using a spatula or your hands, mix the water into the flour to form a large [ ... ] Read More
Soft & chewy Toffee Chocolate Chips Blondies made with our Arbequina Olive Oil.
ingredients:
1/4 cup + 2 Tablespoons Arbequina Extra Virgin Olive Oil 1 large egg 2 tsp. vanilla extract 1/4 tsp. kosher salt 1 cup all-purpose flour 1/3 cup chocolate chips (1 Tablespoon reserved) 1/3 cup toffee chips (1 Tablespoon reserved)
directions:
Preheat the oven to 350 degrees. Grease a square 8x8 baking dish. In a medium bowl, mix together the Butter Flavored Olive Oil and the brown sugar with a wooden spoon until mixed well. Add the egg and vanilla and mix to combine. Stir in the salt and flour and mix until all of the dry ingredients are incorporated. Mix in the chocolate chips and toffee chips (reserving 1 Tablespoon of each.) Spread the dough into the prepared baking dish and spread evenly with a spatula. Sprinkle the remaining chocolate chips and toffee chips evenly over the top. Bake in a [ ... ]
Read More
Comfort food. For when all else fails. Use our Arbonsana Oil to truly experience true decadence.
 Oil Cake Serves 8
Ingredients
1 cup sugar 2 eggs 1 tablespoon vanilla extract 1 cup olive oil 1 cup orange juice 1 cup Betty Crocker Super Moist Cake Mix 1 cup all-purpose flour, sifted 1 teaspoon baking powder 1/8 teaspoon salt 1/2 cup walnuts, chopped, divided
Method
Preheat oven to 350° F. Grease a 10-inch bundt pan with non-stick cooking spray. In a large bowl, combine sugar, eggs, vanilla extract, olive oil and juice. Mix until well combined. In a separate large bowl, combine cake mix, flour, baking powder and salt. Whisk until well combined. Incorporate 1/2 cup at a time of dry ingredients into wet ingredients and mix with hand mixer until all ingredients have combined. Stir in 1/3 cup walnuts. Pour mixture into bundt pan. Bake for 35 minutes or until knife inserted in the middle, it comes out clean. Drizzle with glaze and sprinkle with remaining walnuts [ ... ] Read More