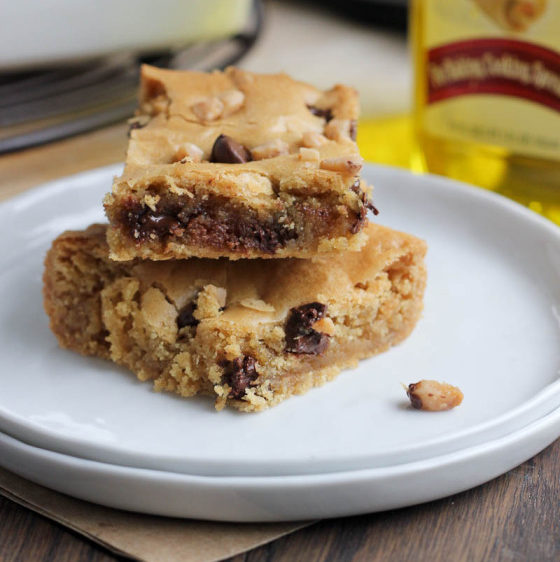 Toffee Chocolate Chip Blondies
Soft & chewy Toffee Chocolate Chips Blondies made with our Arbequina Olive Oil.
ingredients:
1/4 cup + 2 Tablespoons Arbequina Extra Virgin Olive Oil
1 large egg
2 tsp. vanilla extract
1/4 tsp. kosher salt
1 cup all-purpose flour
1/3 cup chocolate chips (1 Tablespoon reserved)
1/3 cup toffee chips (1 Tablespoon reserved)
directions:
Preheat the oven to 350 degrees. Grease a square 8×8 baking dish.
In a medium bowl, mix together the Butter Flavored Olive Oil and the brown sugar with a wooden spoon until mixed well. Add the egg and vanilla and mix to combine. Stir in the salt and flour and mix until all of the dry ingredients are incorporated. Mix in the chocolate chips and toffee chips (reserving 1 Tablespoon of each.)
Spread the dough into the prepared baking dish and spread evenly with a spatula. Sprinkle the remaining chocolate chips and toffee chips evenly over the top. Bake in a 350 degree oven for 22-25 minutes, until the top is golden brown. Cool completely before cutting into 16 squares.
Recipe and picture courtesy of www.bakeyourday.net under the Creative Commons License.