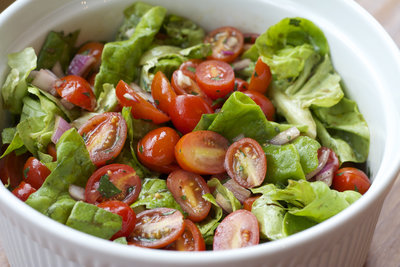 Marinated Cherry Tomato Salad
A delicious mean that is not only fresh and healthy, but can also be made quickly for those on the go!
Dressing
Ingredients
¼ cup olive oil
3 tablespoons balsamic vinegar
3 tablespoons minced fresh parsley
½ teaspoon sugar
1 clove garlic, minced
¼ teaspoon salt
1/8 teaspoon pepper
Instructions
In a small bowl or measuring cup, whisk together olive oil, balsamic vinegar, parsley, sugar, garlic, salt, and pepper until well combined. Pour over tomatoes on onions.
Using a spatula, stir tomatoes and onions until well coated with vinaigrette.
Salad
Ingredients
1 head of Romaine lettuce, shredded
2 apples, chopped
1 cup walnuts, chopped or whole
½ cup feta cheese
1 head bib or green leaf lettuce, washed and torn into medium pieces
Instructions
Rinse tomatoes well and cut in half. Place in a medium bowl along with diced red onion.
Place lettuce in a large bowl. Pour marinated tomatoes on top and toss several times to combine. Serve.
---
Photo and recipe from makebetterfood.com under the Creative Commons License.