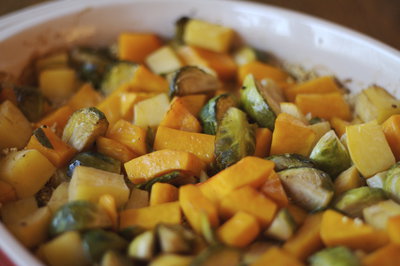 Seriously, guys, brussels sprouts are delicious! At least they are when they have been lightly coated with olive oil and roasted until they turn golden brown. If you haven't tried them before, give them a chance. You'll be pleasantly surprised.
This recipe works well both as a side dish or as an entree with slightly larger portions and a side of cooked millet or rice.
Prep: 10 min
Cook: 40 min
Total: 50 min
Serves 6 to 8
Preheat the oven to 400°F and grease a 9×13-inch baking dish or casserole dish with olive oil.
1 medium butternut squash, peeled, seeded, and diced
1 parsnip, peeled and diced
2 turnips, peeled and diced
Peel butternut squash, parsnip, and turnips. Dice into 1-inch cubes and place in baking dish.
Wash brussels sprouts and cut in half. Place in baking dish.
Drizzle additional olive oil over vegetables and toss vegetables to evenly coat them in olive oil.
Bake at 400°F. After 20 minutes, use a pair of tongs to flip vegetables over to ensure that they are cooking evenly. Bake until vegetables start to brown and are soft, about 20 additional minutes (40 minutes total).
Serve piping hot or at room temperature.
Recipe and picture are taken from Makebetterfood.com under the Creative Commons License.