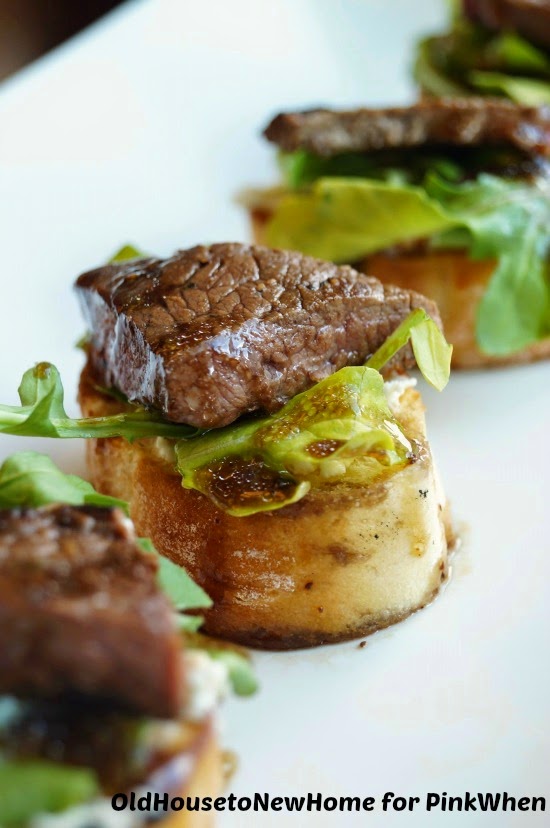 Balsamic Beef Crostini with Herbed Cheese and Arugula
As we approach the holiday party season, you may find yourself struggling to think of delicious and easy to make party appetizers for your guests. If you are one of these people, then look no further! This Balsamic Beef Crostini with Herbed Cheese and Arugula recipe has got you covered! Your guests will be nibbling on these delicious appetizers all night long!
Ingredients:
For the marinade:
1/2 lb thin cut steak
1/2 cup olive oil
1/3 cup balsamic vinegar
2 tbsp. Worcestershire sauce
2 garlic cloves, minced
salt and pepper
For the crostini:
1 french baguette, sliced in 1/2 inch rounds and toasted
1 5.2 ounce container of boursin cheese, or any generic version of garlic and herb spreadable cheese
2 cups fresh arugula
Instructions:
Add all marinade ingredients into a Ziploc bag. Seal, shake well, and refrigerate for at least 1 hour.
When finished marinading, prepare the crostini. Toast the bread in your oven, on a grill pan, or in a skillet. Spread about 1 tsp. boursin cheese onto the bread then top with a few pieces of arugula. Set aside.
Cook your steak in either a heavy bottom skillet or grill pan. Since the steak is thin, it does not require a long cook time. I did 3 minutes per side for mine to cook to medium. Cook to your desired temperature. Let steak rest for at least 10 minutes after cooking so you don't lose all of the juice.  After sitting, cut steak into small triangles and lay atop the arugula. Right before serving, drizzle about 1/2 tsp. of the balsamic vinaigrette over your crostini. Serve warm or at room temperature.
---
Recipe and photo from pinkwhen.com under a Creative Commons Attribution-ShareAlike 3.0 Unported License.