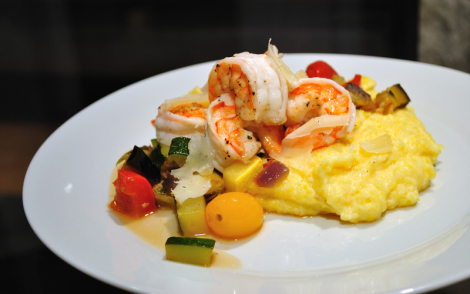 Oven-Roasted Ratatouille with Salt & Pepper Shrimp and Creamy Polenta
For those who love egg plant and seafood, this recipe is for you! It's flavorful and hearty, while also being light and healthy. Bring out the herb flavors in this dish with our Herbs de Provence Olive Oil!
Ingredients
1lb shrimp, peeled and deveined
1 medium eggplant, cubed
1 small zucchini, cubed
1 small yellow squash, cubed
1 red bell pepper, chopped
1/2 large red onion, large dice
3 large cloves of garlic, finely chopped
2 cups cherry tomatoes (1 carton, or about 10 oz)
2 to 3 tbsp oregano, chopped
1 tsp crushed red pepper
2 cups milk
2 cups chicken stock
1 cup polenta
1 tbsp unsalted butter
1/4 cup Parmesan cheese, shredded, plus extra for garnish
2 tbsp creme fraiche (or cream cheese – optional)
Olive oil
kosher salt and fresh ground pepper, to taste
Instructions
Preheat the oven to 425ºF.
In a large saucepan, combine the milk and chicken stock, and bring the mixture to a boil. Whisk in the polenta, reduce the heat to very low, and cover. Allow the polenta to cook, whisking occasionally, until very soft and creamy. Whisk in the butter until completely melted, then remove from the heat and thoroughly stir in the cheese and creme fraiche. Season to taste with salt and pepper.
While the polenta is cooking, heat about 1/4 cup of olive oil in a large, oven-safe skillet over medium-high heat. Saute the eggplant until it starts to color a bit, then add the garlic, and continue to cook until the garlic is fragrant, 30 seconds or so. Add the onions, bell pepper, and crushed red pepper, and continue to saute lightly, until the onions appear translucent. Stir in the zucchini, squash, oregano, tomatoes, and a very generous sprinkle of salt and pepper, then give it a quick stir and transfer the pan to the oven. Roast the vegetables uncovered until the tomatoes split and everything is tender, about 20 minutes.
Meanwhile prep the shrimp: place the shrimp on a large baking sheet, drizzle generously with olive oil, and sprinkle with kosher salt and fresh pepper. Arrange the shrimp in a single layer, so they can all be evenly exposed to the heat. When the ratatouille comes out of the oven, switch the heat to broil, and move an oven shelf up to the highest slot. Broil the shrimp until cooked through, about 2 or 3 minutes (monitor them closely to be sure they don't overcook).
To serve: portion out a large dollop of the polenta, then top with the ratatouille and shrimp, and garnish with Parmesan cheese. Serve immediately.
---
Photo and recipe from: feedingdarragh.wordpress.com under the Creative Commons Attribution-ShareAlike 3.0 Unported License.