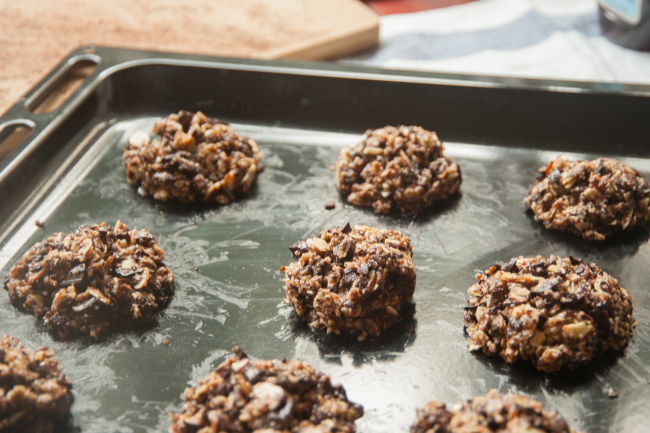 Kick off the New Year with a sweet and healthy dessert that the whole family will love! You can make this recipe even sweeter with Whole Fruit Blood Orange Olive Oil.
Ingredients
2 cups almond flour
1 cup rolled oats
1/2 tsp salt
3/4 tsp baking soda
1/2 tsp cornstarch
1/2 olive oil
1/4 agave syrup
1 tsp vanilla extract
1 cup chocolate chips
1/4 slivered almonds
Instructions
Preheat the oven at 300 degrees.
Mix the dry ingredients (almond flour, rolled oats, salt, baking soda, and cornstarch) in a large bowl.
Pour in the olive oil, agave syrup and vanilla. It's better to use the same measuring cup to measure out the olive oil then agave syrup, it keeps the syrup from sticking to the cup.
Mix to form a sticky dough. Then mix in the chocolate chips and almonds. The cookie dough will be quite crumbly at this point.
Using two spoons, form the dough into balls onto the baking sheet.
Bake for 8 minutes.
Let the cookies cool on the baking sheet for 5 minutes and remove. These cookies are rather delicate, so it is best to store them in a single layer.
---
Photo and recipe from spoonfulofsugarandanythingsweet.wordpress.com under the Creative Commons Attribution-ShareAlike 3.0 Unported License.