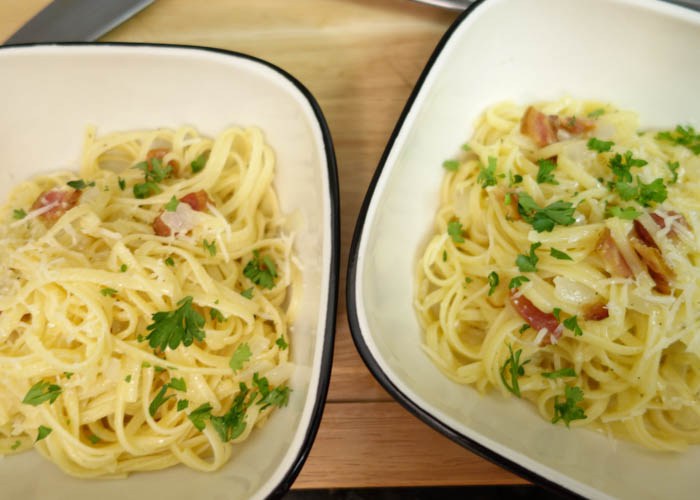 This recipe would be great for a family meal! To make this recipe taste even better try our Basil Olive Oil!
Ingredients
serves 4; cooking time approximately 30 minutes
1 white onion, chopped finely
1 clove garlic, minced
6-8 oz pancetta; or bacon, chopped into small squares
Fresh parsley, chopped
Black Pepper & salt
3/4 – 1lbs of spaghetti, linguine, fettucini or bucatini
2 eggs, beaten
½ cup of parmesan cheese, plus more for serving
olive oil
Procedures
Cook the bacon in a large skillet over medium heat, until just crispy. Remove from skillet, leaving about 2 tablespoons of bacon fat behind.
While cooking the bacon, bring a pot of water to boil. Cook the spaghetti al dente, and then drain. Toss with a little olive oil so the strands don't stick together.
Add the onion to the skillet once you remove the bacon. Cook for 5 minutes, until the onions are soft and translucent, and then add the minced garlic and cook for 1 more minute.
Add the drained spaghetti and the bacon back into the skillet with the onion and garlic. Toss the spaghetti noodles to coat it with the bacon and onion.
Mix the beaten eggs with 1/2 cup of parmesan cheese in separate bowl. Remove the skillet from heat, and add the egg mixture to the spaghetti, stirring vigorously until the noodles are coated.
Season the spaghetti with salt and a generous twist of fresh, ground black pepper. Split the contents of the skillet among four bowls and garnish with parsley.
---
Photo and recipe by cursorycook.com under the Creative Commons Attribution 4.0 International License.