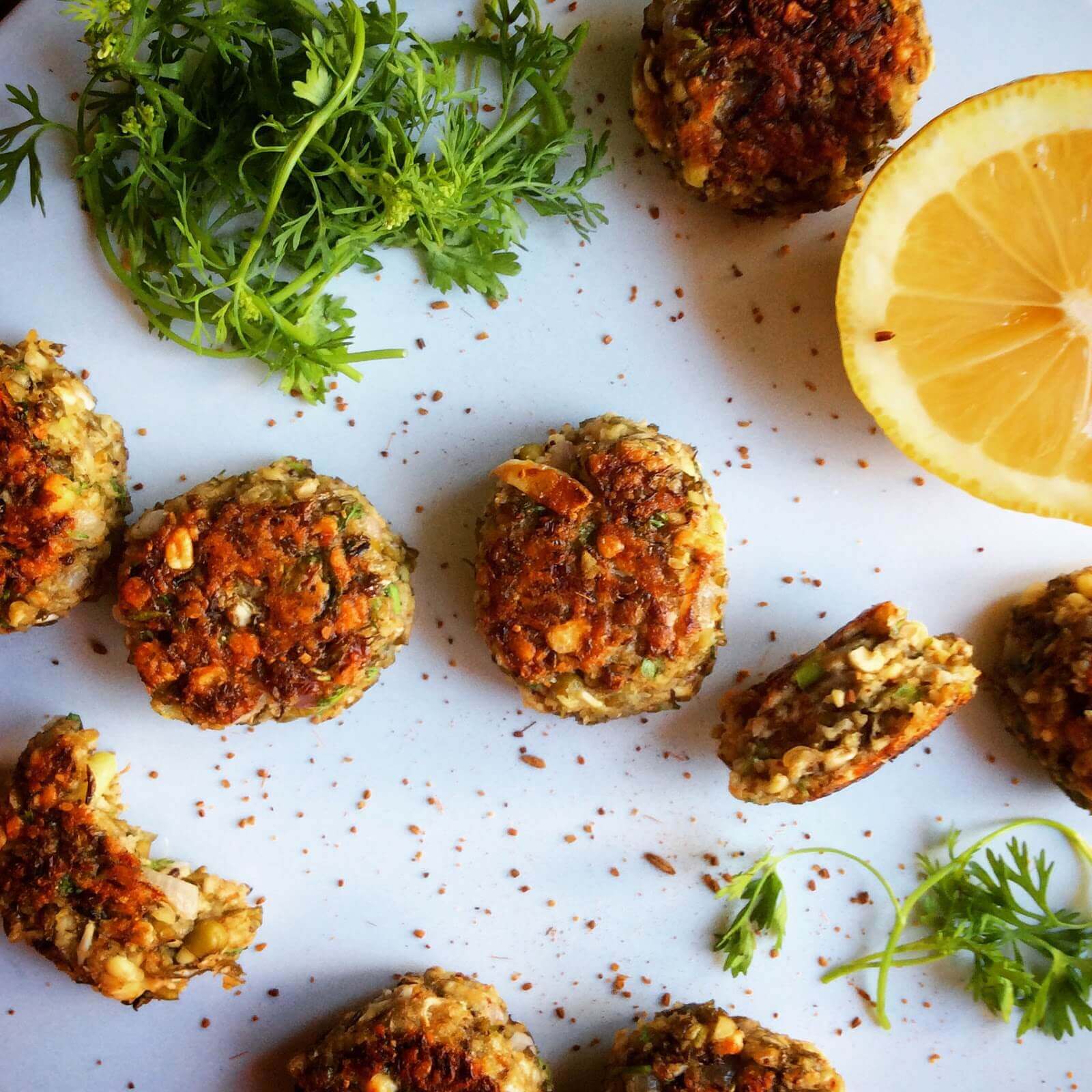 Sprouted Moong (Green Gram) Falafels
This recipe is healthy and a good high protein alternative for people who get tired of eating sprouts just as is. You can bring out the lemon flavor of this recipe with Eureka Lemon Olive Oil.
Ingredients:
1 cup sprouted Moong/Green Gram. (You can use any kind of sprouts)
5 cloves of Garlic
1/2 an Onion, finely chopped.
A handful of mixed herbs, finely chopped. (Such as coriander, mint, parsley)
1 tsp Roasted Cumin powder
Tata Salt Lite, to taste
1/2 tsp All spice powder (can be substituted with brown Garam Masala powder)
juice of half a lemon.
1/2 tsp Baking Soda
2 tsp Olive Oil.
Instructions:
You can either use lightly steamed Moong or raw Moong for this recipe as you desire. If you want to use steamed Moong, place them in the microwave, sprinkled with some water and microwave on high for a minute. You'll need to let them cool down before proceeding. I used raw sprouts.
Pulse the sprouts in the blender, in short 2 second bursts, till it resembles a coarse powder. We do not want a paste. Remove them in a mixing bowl. Add in the garlic and pulse that as well, add to the sprout mix.
Now throw in the Onion, herbs, and the powders. Add salt and mix everything together.
In a spoon, take the lemon juice and add the baking soda to it. Pour the froth into the mixture and combine everything again. Gently make bite sized rounds of falafel, and place them on a plate. I made 8. Put them in the fridge for 5 minutes.
Heat up a non stick pan on medium high with the Olive oil. Put in the falafel rounds and slightly flatten them. Let them be undisturbed for a minute. Flip them over, lower the flame to medium and finish cooking on the other side, approximately 3 to 4 minutes.
Serve hot!
---
Photo and recipe from: caramelwings.in under the Creative Commons Attribution-ShareAlike 3.0 Unported License.