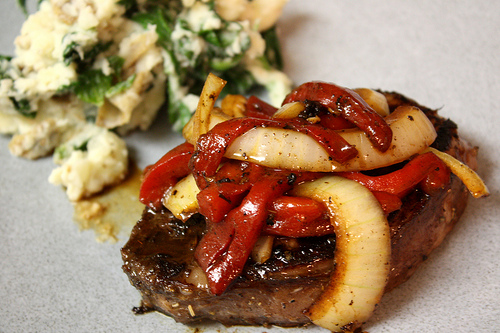 Roasted Red Pepper & Onion Steak with Balsamic Vinegar
If you're not a red meat eater, then don't let that stop you from trying this recipe out! The balsamic sauce, peppers and onions would also taste good on top of chicken or pork too! You can enhance the
Ingredients
1/2 cup olive oil
3 tablespoons balsamic vinegar (divided)
2 teaspoons Herbes de Provence Olive Oil
2 teaspoons garlic, minced (divided)
1 teaspoon ground black pepper
2 steaks (of your preference)
1/2 teaspoon salt
1/2 medium onion, sliced thick
2 roasted red peppers, sliced
1-2 teaspoons crushed red pepper
Directions
Whisk together oil, 1 tablespoons vinegar, herbes de provence, 1 teaspoon garlic and black pepper in shallow baking dish. Add steaks to marinade, and marinate for 1 to 1-1/2 hours.
Remove salts from marinade and season both sides with salt.
Preheat large stove top pan over high heat. Cook steak to desired done ness. I like steaks medium rare and cooked a 1″ thick steak about 4 minutes on each side to achieve that. A thermometer is always the best way to know, medium rare is about 135 degrees. Once cooked to your liking, remove steaks from pan and set aside.
Reduce heat to medium high and add onions to pan, cook for about 4 minutes. Then add remaining vinegar (2 tablespoons), garlic (1 teaspoon), roasted red peppers and crushed red pepper to pan. Cook for 1 to 2 minutes or until heated through.
Serve steaks with Roasted Red Peppers, Onions and Balsamic sauce on top. Enjoy!
---
Recipe and photo from kissmywhisk.com under the Creative Commons License.