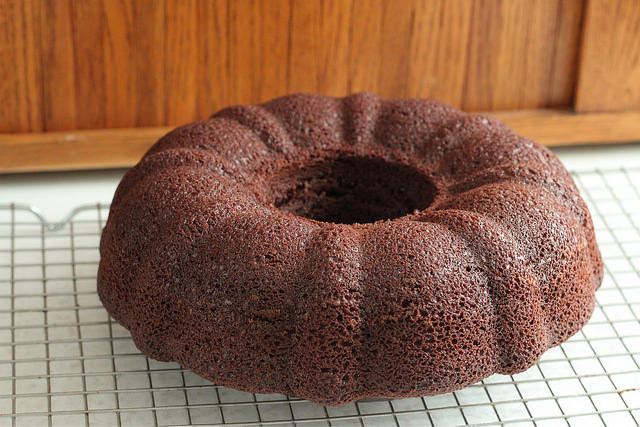 Chocolate Olive Oil Bundt Cake (adapted from Hershey's)
Wow your Thanksgiving guests with this delicious Chocolate Olive Oil Bundt Cake recipe! You can even add a sweet and fruity flavor to this recipe by using our Whole Fruit Blood Orange Olive Oil!
Cake Ingredients
1 2/3 c. ap flour
scant 1 c. sugar
1/2 c. cocoa powder (I use a blend of natural and dutch cocoa)
1-2 t. espresso powder, optional
1 1/2 t. baking soda
1/2 t. baking powder
1 t. kosher salt
1/2 c. olive oil
1 1/2 c. buttermilk
1 t. vanilla
Instructions
Heat oven to 350 degrees and butter and flour a 12 cup bundt pan and set aside.
Combine flour, sugar, cocoa powder, espresso powder (if using), baking soda, baking powder and salt in a large mixing bowl.  Measure olive oil, buttermilk, and vanilla into a smaller bowl, and add all at once to the dry ingredients.  Beat on medium-high speed with a hand mixer (or by hand if you like) for a full 3 minutes, making sure the sides are scraped well into the batter.
Pour into prepared pan, and bake in the center of the oven for 50-60 minutes or until a tester comes out clean.  Cool in the pan on a wire rack for 10 minutes before inverting and allowing to cool completely before frosting.
Chocolate Glaze Ingredients (double this amount for a thicker topping)
2 T. sugar
2 T. water
1/2 c. bittersweet chocolate chips
Instructions
Bring the sugar and water to a just boil in a small saucepan, stirring to be sure the sugar is dissolved completely.  Remove from the heat and stir in chocolate chips, stirring well with a spatula to melt them evenly.  Immediately spoon (or spatula) the thick glaze onto fully cooled cake.
Picture and recipe from rcakewalk.blogspot.com under a Creative Commons Attribution-ShareAlike 3.0 Unported License.