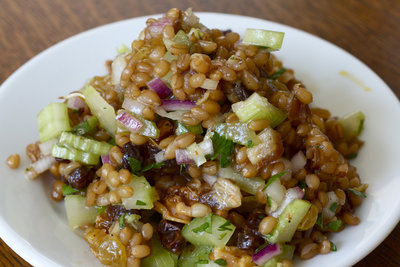 Wheat Berry Salad with Figs
"This recipe is packed with bright, zesty flavors and chewy, whole grain wheat berries."Try using our Arbequina Extra Virgin Olive Oil.
Prep: 20 min
Stand: 1 hour
Cook: 1 hour
Total: 2 hours 20 min
1 ½ cups wheat berries
¼ cup rice vinegar
⅓ cup orange juice
2 tablespoons honey
½ cup dried fruit such as figs, dates, or apricots, chopped finely
⅓ cup raisins
⅓ cup golden raisins
½ medium red onion (about 1 ¼ cup), finely chopped
4 large stalks celery (about 1 ½ cups), finely chopped
¼ cup olive oil
2 tablespoons chopped fresh parsley
1 tablespoon lemon zest
1 teaspoon kosher salt
freshly-ground black pepper, to taste
Rinse wheat berries and put in a large sauce pan. Fill with water until 1 inch over berries. Bring to a boil over medium-high heat, then reduce to simmer. Partially and cook until wheat berries are soft but chewy, about 1 hour.
While the berries are simmering, whisk vinegar, orange juice, and honey together in a small saucepan. Bring to a boil over medium heat.
Add the raisins and chopped dried fruit to the boiling vinegar mixture and cook for 30 seconds while stirring continuously. Remove from heat and set aside to let fruit steep in the cooked juice.
Combine chopped onion and celery in a large bowl.
Once wheat berries have cooked to your desired tenderness, drain and add wheat berries and the reserved fruit mixture to the large bowl with chopped vegetables. Mix to combine.
Lightly toast walnuts in oven at 400°F for 5 minutes. Remove and add to large bowl.
Add olive oil, parsley, lemon, salt, and pepper to taste. Mix to combine.
Let salad stand for 1 hour to allow favors to combine and serve.
Recipe and picture taken from www.makebetterfood.com under the Creative Commons License.