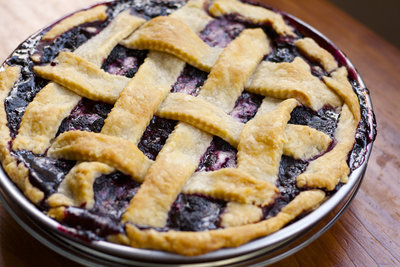 Balsamic Black Raspberry Pie
The deep, rich flavor of black raspberries is dramatically enhanced in this pie by balsamic vinegar and tempered with honey to create one of our favorite dessert recipes yet. If fresh black raspberries are not in season, you can use fresh blueberries instead for equally amazing results.
Prep: 40 min
Cook: 1 hour 10 min
Total: 1 hour 50 min – Serves 8
Dough
2 ⅔ cups all-purpose flour
Measure flour into a large bowl.
2 teaspoon salt
¾ cup vegetable shortening
Add the salt and shortening.
Using two dull butter knives or a pastry blender, blend the flour, salt and shortening until the shortening is the size of peas.
10 to 12 tablespoons ice cold water
Fill a wide-mouthed glass with ice. Add water to the top. Measure or pour the ice cold water into the flour mixture. Using a spatula or your hands, mix the water into the flour to form a large ball of dough. You may need to add an extra tablespoon of water if you have excess flour. If you added too much water, add additional flour until the dough is well formed but not too sticky. Handle and mix the dough as little as possible.
Separate dough into two pieces, one being slightly larger than the other. The larger piece is the bottom layer of crust.
Wrap the pieces separately in wax paper and put them in the freezer for 10 minutes or the refrigerator for 30 minutes.
Filling
Preheat oven to 425°F.
7 cups fresh black raspberries
Rinse berries well. Place one cup of berries in a large bowl and mash. Set remaining berries aside.
¼ cup cornstarch
Add cornstarch to mashed berries and mix with a wooden spoon until well combined.
½ cup sugar
⅓ cup honey
2 tablespoons balsamic vinegar
2 teaspoons vanilla extract
½ teaspoon sea salt
¼ teaspoon ground cinnamon
1/8 teaspoon finely ground black pepper
Add sugar, honey, balsamic vinegar, vanilla extract, sea salt, cinnamon, and pepper to bowl with mashed berries. Stir until combined.
reserved black raspberries
Added reserved black raspberries to bowl and gently stir until berries are evenly mixed.
Assembly
reserved pie crust
flour (as needed)
Lightly sprinkle a clean work surface with flour. Using a rolling pin, roll the large piece of crust out until it is slightly larger than the diameter of your pie plate. Place in large pie plate.
reserved filling
2 tablespoons butter, cut into 1/4-inch cubes
Pour reserved filling into pie. Arrange butter pieces around top of filling.
Roll out remaining dough. If desired, cut crust and form a lattice topping. Alternatively, cover with a rolled out piece of dough and cut four large vent holes coming out from the center.
Baking
Place pie on a baking sheet lined with aluminum foil to catch any berry juice that bubbles over.
Bake at 425°F for 20 minutes. Reduce heat to 375°F and bake for an additional 20 minutes. Tent pie with a sheet of aluminum foil to prevent excess browning and bake for an additional 30 minutes (1 hour 10 minutes total) until crust is golden brown and mixture is bubbling.
Remove from oven and let cool completely, at least 3 hours, before serving.