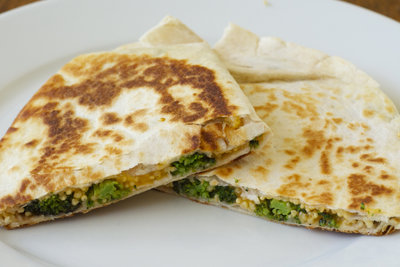 Broccoli Millet Quesadillas
Olive oil is in everything! Try this mucho bueno recipe! Cheese quesadillas are a staple for many kids as they are easy to prepare. However, they lack much nutritional value. This quesadilla filling is packed with nutrients from millet and lightly sautéd broccoli. Serve with salsa or sour cream for a satisfying meal.
Prep: 15 min
Cook: 15 min
Total: 30 min
Serves 4
Millet
1 cup water
Bring water to a boil in a medium saucepan over high heat.
½ cup millet
1 teaspoon olive oil
½ teaspoon salt
Add millet, olive oil, and salt to water. Stir quickly to combine. Reduce heat to low and let simmer until millet is soft and fluffy, about 30 minutes.
Filling
1 large broccoli, chopped into florets (about 1 ½ cups)
2 teaspoons olive oil
In a large skillet, sauté chopped broccoli florets in olive oil over medium heat until bright green, about 3 to 5 minutes.
cooked millet
cooked broccoli
2 cups shredded cheddar cheese
¼ teaspoon salt
1/8 teaspoon pepper
Combine cooked millet, broccoli, cheese, salt, and pepper in a large bowl.
Quesadillas
2 teaspoons olive oil
Heat olive oil in a large skillet.
6 to 8 large tortillas
Place one tortilla on a plate and spoon on filling as desired. Fold tortilla in half and cook in skillet until cheese has melted and tortilla is golden brown, about 3 minutes per side. Flip and cook other side.
Cut and serve with salsa and/or sour cream.
Recipe and picture taken from makebetterfood.com under the Creative Common License.