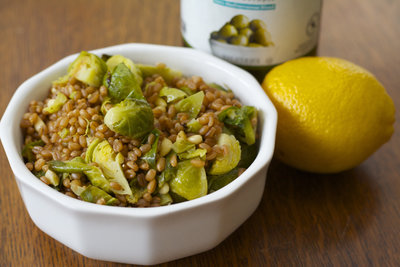 Lemon Vinaigrette Wheat Berry Salad
Try the classic Arbequina with this one!
Prep: 20 min
Cook: 1 hour
Total: 1 hour 20 min
Serves 4 to 6
3 cups vegetable broth
In a small saucepan, bring broth to a boil
1 cup red wheat berries
¼ teaspoon salt
Add wheat berries and salt to boiling broth. Stir and reduce heat to a simmer. Cover and cook until wheat berries are soft, about 1 hour.
1 pound brussels sprouts, trimmed and quartered
1 green onion, chopped
About 20 minutes later, preheat oven to 425°F. Wash and chop brussels sprouts and green onion. Place chopped vegetables in a baking dish.
1 tablespoon olive oil
Drizzle olive oil over vegetables and toss to coat.
Bake at 425°F until lightly browned, about 20 minutes.
1 tablespoon lemon juice
1 tablespoon olive oil
½ teaspoon sea salt
¼ teaspoon ground pepper
In a small measuring cup, combine lemon juice, olive oil, sea salt, and pepper, whisking to combine.
When wheat berries are done cooking, strain excess liquid out using a fine mesh strainer.
½ cup golden raisins
¼ cup pine nuts
Combine wheat berries, roasted veggies, pine nuts, and golden raisins in a large bowl. Toss to coat evenly and serve.