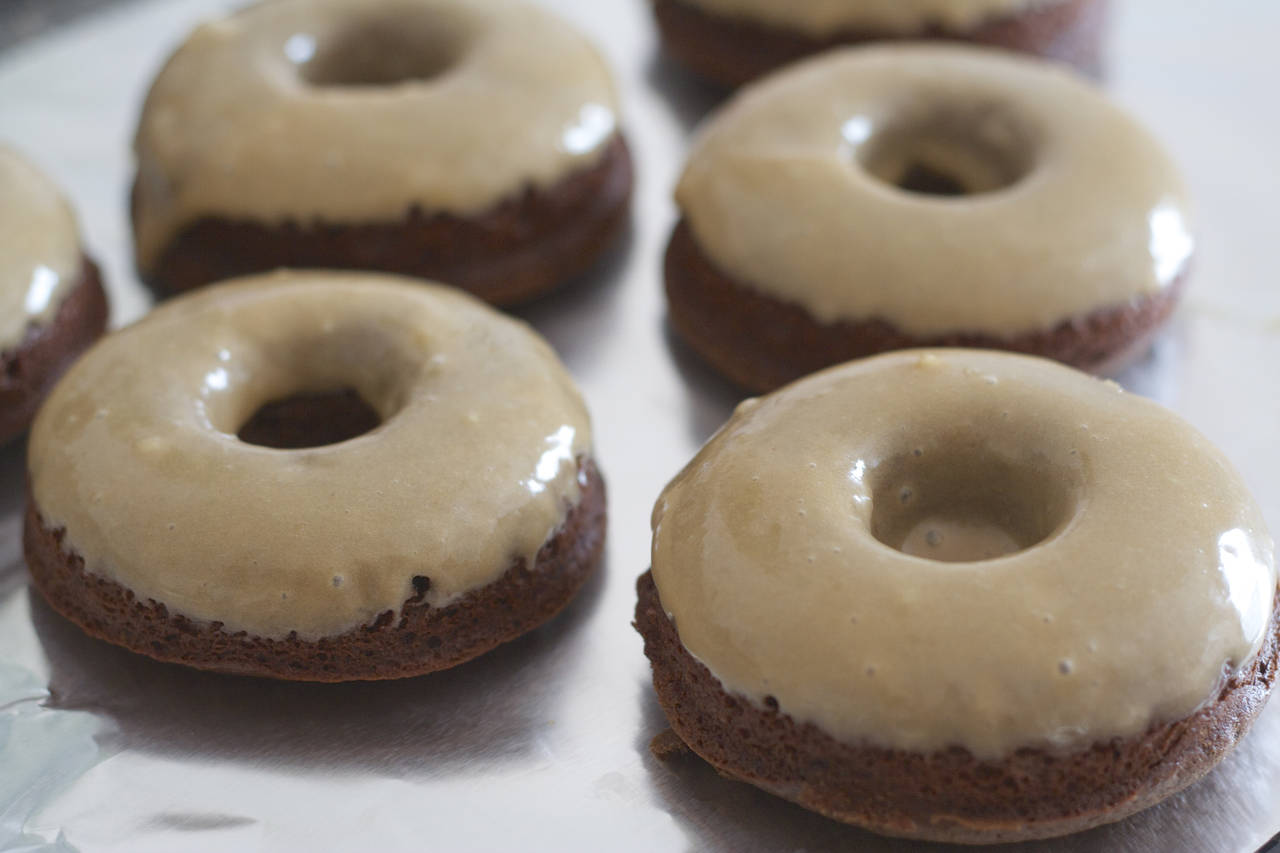 Baked Espresso Brownie Doughnuts
We slightly modified this one… Use the Arbosana Olive Oil instead of the vegetable oil. We guarantee you won't regret it!  If you like the idea of a brownie that's been transformed into a doughnut and infused with espresso, then this recipe is for you.
Prep: 15 min
Chill: 30 min
Cook: 30 min
Total: 1 hour 15 min
Yields 18 doughnuts
Preheat oven to 325°F.
2 cups all-purpose flour
½ cup unsweetened cocoa powder
2 tablespoons instant espresso powder
1 teaspoon baking soda
1 teaspoon sea salt
In a large bowl, combine flour, cocoa powder, espresso powder, baking soda, and salt.
2 eggs
In a small bowl, beat eggs.
1 ½ cups packed brown sugar
1 cup milk
⅓ cup vegetable oil
2 teaspoons vanilla extract
Add brown sugar, milk, oil, and vanilla extract to bowl with eggs. Whisk until smooth.
Pour liquid ingredients into larger bowl with flour and whisk until fully incorporated.
Measure out scant ¼ cup of batter and carefully pour into greased doughnut pan. Bake at 325°F until lightly browned and doughnuts spring back when touched, about 12 to 15 minutes.
Remove from oven and let cool inside pan for 3 minutes. Remove from pan and cool on wire rack. Grease pan again and repeat until all of the batter has been used.
Espresso Glaze
1 teaspoon instant espresso powder
1 tablespoon hot water
In a small bowl, whisk espresso powder and hot water until dissolved.
3 ounces cream cheese, melted
Melt cream cheese in the microwave on high for 1 minute. Add to bowl and whisk until smooth.
1 ¼ cups confectioners sugar
2 tablespoons milk
1 teaspoon vanilla extract
Add sugar, vanilla extract, and milk. Whisk until combined. If the glaze seems too thin, add more sugar. If too thick, add more milk.
Dip cooled doughnuts into bowl of glaze to completely coat one side. Let excess glaze drip off and place on a piece of aluminum foil or wax paper to let glaze set.
Recipe taken from makefoodbetter.com under the Creative Commons License.