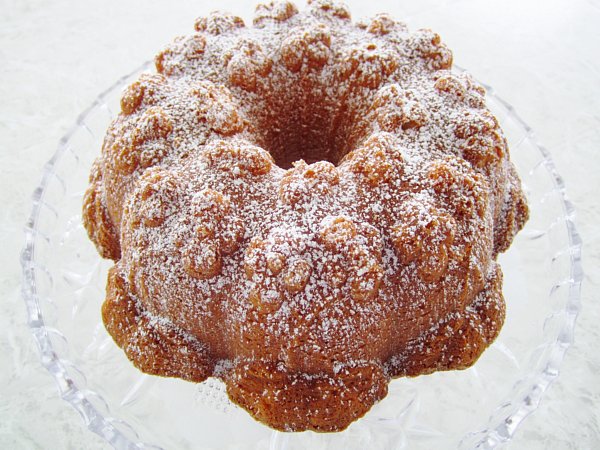 Olive Oil Citrus Bundt Cake
Do you have a loved one's birthday coming up? Then try this Olive Oil Citrus Bundt Cake recipe! We guarantee everyone will love this flavorful cake! You can even enhance the citrus flavor with our Whole Fruit Blood Orange Olive Oil. Enjoy!
Ingredients
Makes 1 (10-inch) Bundt
(Adapted from Baked Explorations)
3 cups all-purpose flour
1 T. baking powder
1/2 tsp. kosher salt
4 large eggs, separated
2 cups sugar
1 cup plain yogurt
3/4 cup good quality extra-virgin olive oil
Freshly grated zest of 2 oranges or lemons
1 1/2 tsp. pure vanilla extract
Confectioners' sugar, for dusting
Instructions
Preheat the oven to 350 degrees F. Generously spray the inside of a 10-inch Bundt pan with nonstick spray; alternatively, butter it well, dust it with flour, and knock out the excess flour (I recommend the latter for more intricate Bundt pan designs).
In a large bowl, whisk together the flour, baking powder, and salt. Set aside.
In the bowl of an electric standing mixer fitted with the paddle attachment, beat the egg yolks until they are pale and light; slowly pour in the sugar until it is completely incorporated. Add the yogurt and olive oil and mix until thoroughly combined. Add the citrus zest and vanilla, and mix until just incorporated.
Add the flour mixture to the wet ingredients in two parts, beating after each addition until just combined (this will take about 10 seconds). Scrape down the bowl and beat again for 5 seconds.
In another bowl, beat the egg whites until stiff peaks form. Scoop 1 cup of the egg whites into the batter. Use a rubber spatula to gently fold them in. After about 30 seconds of folding, add the remaining egg whites and gently fold until they are almost completely combined. Do not rush the folding process.
Pour the batter into the prepared pan and bake for 40 to 50 minutes, rotating the pan halfway through, or until a toothpick inserted into the cake comes out clean. Transfer the pan to a wire rack to cool for 15 minutes. Then gently loosen the sides of the cake from the pan and invert onto the wire rack to finish cooling.
Just before serving, dust the cake with the confectioners' sugar. The cake can be stored at room temperature, covered tightly, for up to 3 days.

*Note* Try replacing the citrus zest with some finely chopped fresh rosemary or thyme for a different twist on this light and refreshing olive oil cake.
Recipe and photo from: mission-food.com under the Creative Commons Attribution-NonCommercial-ShareAlike 3.0 Unported License.