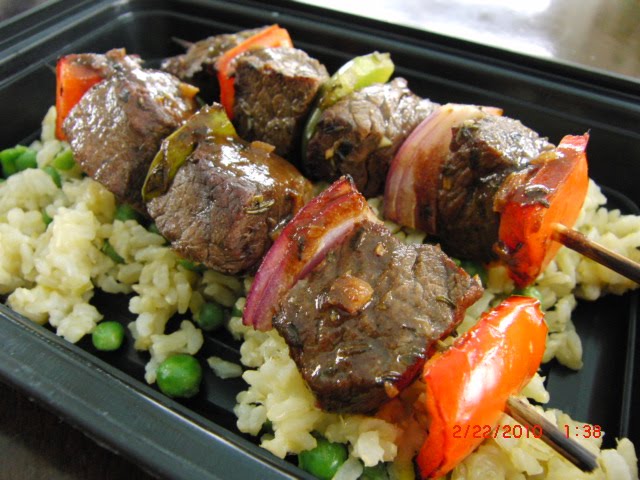 Herb and Balsamic Steak Kebabs
Ingredients
2 large garlic cloves, chopped
2 tablespoons balsamic vinegar
1 tablespoon olive oil
juice of 1/2 lemon
1 tablespoon Dijon mustard
1 tablespoon Worcestershire sauce
2 tablespoons soy sauce
1/2 teaspoon each dried oregano, basil, and thyme
1 1/2 pounds sirloin steak, cubed
1 red pepper, cut in 1-inch pieces
1 green pepper, cut in 1-inch pieces
1 red onion, cut in 1-inch pieces
8 bamboo skewers
Instructions
Preheat oven to 450 degrees.
In a small bowl, combine the garlic, balsamic vinegar, olive oil, lemon juice, Dijon mustard, Worcestershire sauce, soy sauce, oregano, basil, and thyme. Place the steak in a large resealable bag and add all but 2 – 3 tablespoons of the marinade. Set reserved marinade aside. Let the steak marinate in the refrigerator for 2 – 6 hours.
Thread meat alternately with the peppers and onion on the skewers. Baste the kebabs with the reserved marinade. Place on a broiler pan and roast in oven for about 4 – 5 minutes per side. During the last couple minutes of cooking, turn the oven to broil to slightly char the kebabs.
Remove from oven and let sit covered for 5 minutes before serving.Note – alternately, the kebabs can be grilled on an outdoor grill for 4 – 5 minutes per side.
Recipe and Photo from: dinnersforayear.blogspot.com