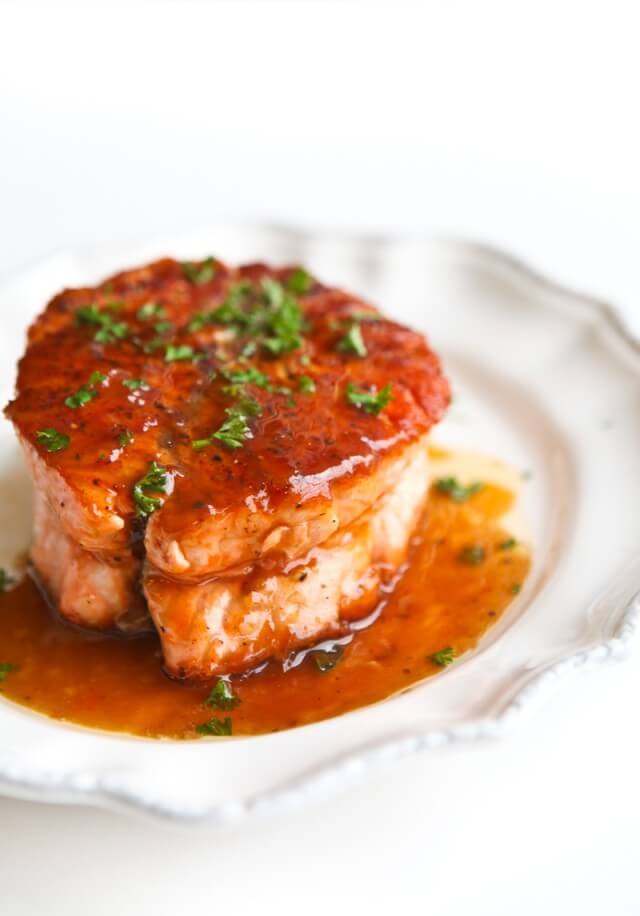 Salmon with Magical Butter Sauce Recipe
If you love eating fish with a citrus twist, then this recipe is for you! The fruit preserves in combination of the seasoned salmon fillet is a delicious addition that any seafood lover will enjoy! If you want to add some extra flavor to this dish, then try our Sicilian Lemon Balsamic for a little extra citrus kick.
Ingredients
FOR THE MAGICAL BUTTER SAUCE
1/2 cup butter
3 tablespoons fruit preserves (like apricot, mango-jalapeno, blackberry, etc.)
1 1/2 tablespoons balsamic vinegar
salt and pepper
1 tablespoon minced herbs (like parsley, cilantro, basil, chives)
FOR THE FISH
1 piece skinless salmon fillet, about 5-6 inches long
salt and pepper
Vegetable oil, for cooking
Preparation
Season the salmon with salt and pepper. Roll the salmon. Use kitchen twine to tie the salmon in 4 places, evenly spaced. Make sure you tie it tight! Cut between the twine to make 4 evenly sized pieces, about 1 1/4″ thick.
Heat a large frying pan with some vegetable oil over high heat. When hot, add the salmon steaks. Cook for 2 minutes. Turn the salmon over. Cook an additional 1 minute. Turn heat to medium-low, then cover pan loosely with tin foil. Cook for 4-5 minutes, or until the salmon is cooked through. Remove salmon to clean plate.
To the same pan on medium-low heat, add the Magical Butter ingredients. Cook until bubbly and butter is melted, about 30 seconds. Pour on top of the salmon.
Picture and Recipe from: steamykitchen.com