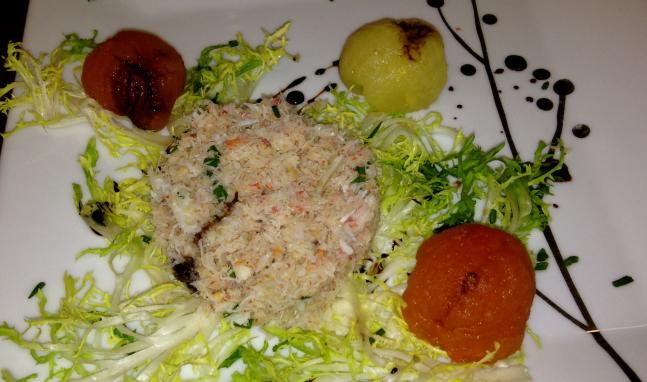 Poached Tomato with Iced Crabmeat
End your summer evening on a delicious note with this Poached Tomato with Iced Crabmeat recipe! It's not only filling, but refreshing too!  We suggest Garlic Olive Oil! to enhance the taste of this dish!
Ingredients
9 ounces Alaskan King Crabmeat
1⁄4 bunch Chives, finely chopped
3 1⁄2 ounces Olive Oil
3  Yellow Tomatoes
3  Red Tomatoes
Instructions
Cut the top off of each tomato. Places in a parchment-lined roasting pan with the cut side down, and brush with a generous amount of olive oil. Cover the pan with foil and place in a 350F oven for at least an hour or, until the tomatoes are soft and skin has loosened. Once the tomatoes are cooled, peel the tomato and remove excess seeds and pulp. Wrap in a cheesecloth and gently squeeze to re-shape the tomatoes.
Marinate the crabmeat with a little Olive Oil, Salt, Pepper and Chives. Chill for about an hour before serving. Decorate with frisee lettuce and balsamic syrup. I prepared mine as a large appetizer plate for a group to share.