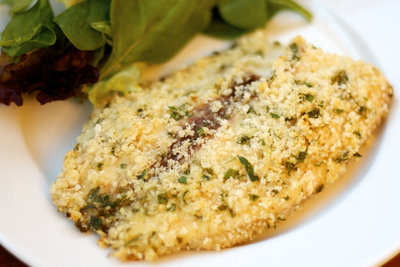 This is a terrific, low-fat and almost zero-carb recipe for fish that is sure to be a crowd-pleaser. A light coating of oil ensures that the fish bakes up crispy and juicy without an oily, bitter taste that frying can cause. The light coating of breadcrumbs and cheese adds a flavor boost and welcome crunch. I like to top it with a simple tomato garnish on the side.
Prep: 15 min
Cook: 15 min
Total: 30 min
Serves 6
Preheat oven to 400°F. Line a rimmed baking sheet with aluminum foil and set aside.
¾ cup finely grated parmigiano-reggiano cheese
½ cup panko breadcrumbs
2 tablespoons finely minced parsley
1 teaspoon sea salt
½ teaspoon paprika
½ teaspoon fresh grated pepper
In a medium bowl, mix parmigiano-reggiano, breadcrumbs, parsley, salt, paprika, and pepper.
6 tilapia fillets (about 2 pounds)
2 tablespoons olive oil
One at a time, pat each fillet dry with a paper towel. Using a pastry brush, gently brush both sides of the fillet with olive oil. Place in bowl with cheese-breadcrumb mixture and press down gentle on each side to coat evenly. Place breaded fillet on prepared baking sheet and repeat with remaining fillets.
Bake at 400°F until interior of fish reaches at least 140°F on an instant read thermometer and breadcrumb coating begins to turn light golden brown, about 12 to 14 minutes.
Remove from oven and serve immediately with tomato garnish, if desired.
Simple Tomato Garnish
2 tablespoons olive oil 
2 cloves garlic, mined
Heat olive oil in a small sauce pan over medium heat. Sauté garlic until fragrant, about 4 minutes.
14 ounces diced tomatoes
¼ teaspoon salt
1/8 teaspoon pepper
1 pinch sugar
Add tomatoes, salt, pepper, and sugar. Simmer until sauce has reduced and is thick, about 15 minutes.