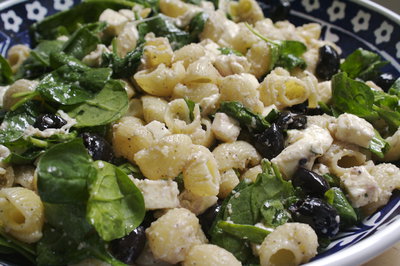 Pasta with Spinach, Olives, and Mozzarella
A delicious pasta salad that's great for lunch or picnics. The homemade vinaigrette dances off of flavorful olives and fresh mozzarella. Serve fresh or prepare up to two days in advance.
Prep: 15 min
Cook: 10 min
Total: 25 mins
Serves 6
Boil water in a large pot.
1 pound pipe rigate pasta
1 tablespoon salt
Pour pasta and salt into water. Stir well and boil over high heat until pasta is cooked al dente, about 10 minutes or according to package directions.
8 ounces fresh mozzarella cheese
While pasta cooks, cut mozzarella into ½ inch to 1 inch cubes. Place in a large bowl.
14 ounces kalamata olives, pitted and halved
6 ounces baby spinach (1 bag), washed and dried
1 cup finely grated Parmesan cheese
Add spinach, olives, and Parmesan to bowl with mozzarella. Toss to combine.
When pasta is cooked al dente, pour into colander to drain water and add pasta to bowl.
3 tablespoons red wine vinegar
2 teaspoons kosher salt
1 teaspoon freshly ground black pepper
In a separate, non-reactive bowl, combine vinegar, salt, and pepper. Whisk to combine.
While whisking constantly, slowly pour olive oil into vinegar mixture. Whisk vigorously until completely incorporated.
Pour dressing over salad and toss until pasta, spinach, and mozzarella are well coated.