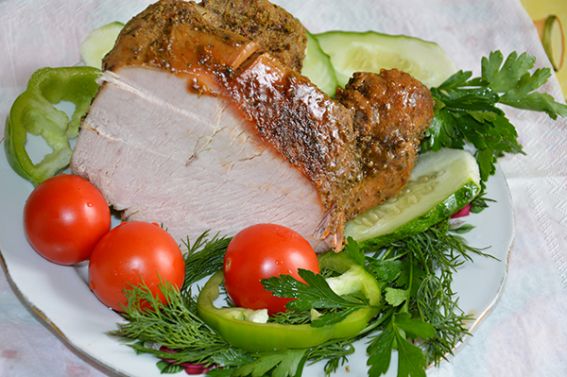 Cold Boiled Turkey In Multicooker
This turkey recipe is the perfect recipe for a beginner cook and for those who are looking for a quick and easy way to make their Thanksgiving day turkey!
Ingredients
1.3 kg turkey fillet
1/2 tsp black pepper, ground
1/2 tsp paprika
1/2 tsp turmeric
1/4 tsp chili pepper, ground
1/2 tsp mustard, cereal
4-5 garlic cloves, minced
2 Tbsp olive oil
2 Tbsp salt
1 tsp parsley
1 tsp dill
How to make Cold boiled turkey in multicooker
Wash turkey fillet under cold water. Dry thoroughly by paper towels.
Mix black ground pepper, paprika, turmeric, ground chili pepper, cereal mustard, dill, parsley, minced garlic cloves, olive oil and salt in separate bowl.
Smear the turkey fillet with this mixture. Pour two spoons of olive oil and 40 ml of water in the multicooker. Also put turkey fillet in it.
Cook in Baking mode for 2-3 hours, turn the meat periodically until ready.
Pull the cold boiled turkey from multicooker, let it cool and serve with vegetables.
Photo & Recipe from: nibbledish.com