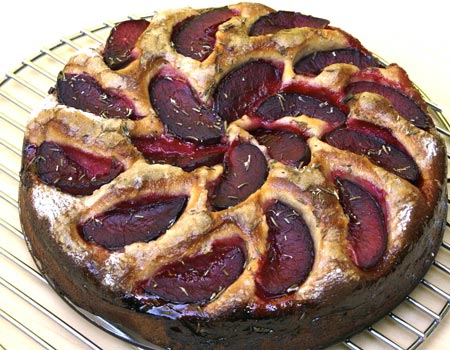 Yeasted Olive Oil Plum Cake
Looking to add to your Thanksgiving dessert options? Then try this Yeasted Olive Oil Plum Cake by Wild Yeast! It's the perfect fall dessert for any Thanksgiving meal!
Yield: one 10-inch cake
Time:
Mix: 20 minutes
First fermentation : 2 hours
Assemble: 5 minutes
Proof: 1.5 hours
Bake: 40 minutes
Dough Ingredients:
250 g flour
66 g milk
6 g (2 t.) instant yeast
4 g (2/3 t.) salt
100 g eggs (2 eggs)
grated zest of one lemon
1 t. chopped fresh rosemary
55 g fine granulated sugar
113 g olive oil
Topping Ingredients:
3 large, firm plums, sliced
1 t. chopped fresh rosemary
34 g fine granulated sugar
Method:
In the bowl of a stand mixer with paddle, combine the flour, milk, yeast, salt, eggs, lemon zest, and rosemary. Mix in low speed until incorporated. The dough will be stiff at this point.
Replace the mixer paddle with a dough hook. In medium speed, gradually add the sugar in 5 or 6 increments, mixing for about two minutes between each addition.
Continue mixing in medium speed until the dough starts to come together around the hook.
Change back to the mixer paddle. Add the olive oil and mix in low speed until it is incorporated. This will take a while.
Transfer the dough to a lightly oiled container. Cover and ferment at room temperature for 2 hours.
Press the dough into a disc and into an oiled 10-inch springform pan.
Press the plum slices into the dough.
Cover and proof for 1.5 hours at room temperature.
Meanwhile, preheat the oven to 400F.
Before baking, sprinkle the cake with rosemary and sugar.
Bake at 400F for 10 minutes, then reduce the heat to 350F and bake for another 30 minutes or so, until the cake is golden brown and the plums are releasing their juice.
Cool on a wire rack in the pan for 10 minutes, then release the pan and continue to cool.
Recipe & Photo by: Wild Yeast