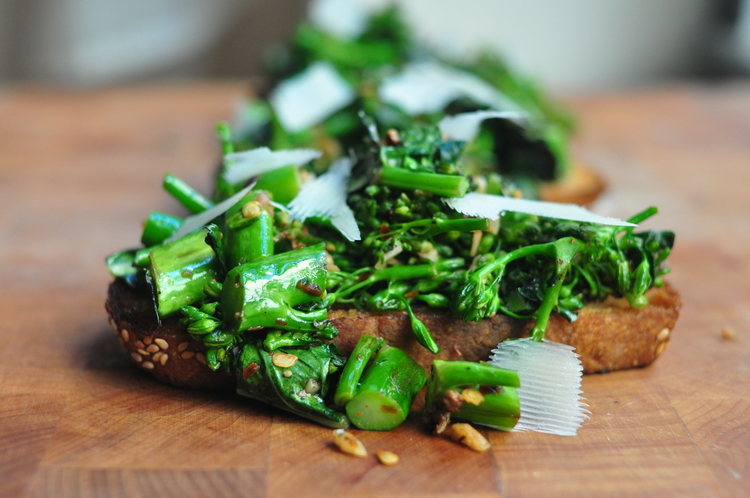 This Salty Broccoli Toast by leannebrown.com is the prefect addition for your Thanksgiving day meal. We suggest serving it as an appetizer for guests as they wait to eat your delicious Thanksgiving day meal!
Ingredients: FOR TWO
2 tbsp butter
4 slices bread
1 tsp olive oil
3 cloves garlic, finely chopped
1 tsp chili flakes
1 anchovy, finely chopped
1 crown and stem of broccoli, chopped
Romano or Parmesan, freshly grated
salt and pepper
Instructions:
Melt ½ tablespoon of butter in a small pan on medium heat. Place the two slices of bread in the pan and let them sizzle for about 2 minutes, then lift them with a spatula to check whether they're golden brown underneath. When they are, flip 'em over. Add the rest of the butter to the pan to make sure the second side of the toast becomes just as golden as the first. Sprinkle the top of the bread with salt and pepper. Once the second side is golden, set the bread on a plate to await its topping.
To make the broccoli: Warm up the oil in a pan on medium heat. Add the garlic and chili flakes and cook for 2 minutes, until they smell great but are not yet brown. Add the anchovy and cook for another minute. Add the broccoli and about ¼ cup of water. Cover the pan, steam for 3 minutes, then toss and cook for 2 minutes, until the broccoli is tender and the water is gone. Spoon onto toast; top with cheese, salt, and pepper!
Photo & Recipe from: leannebrown.com