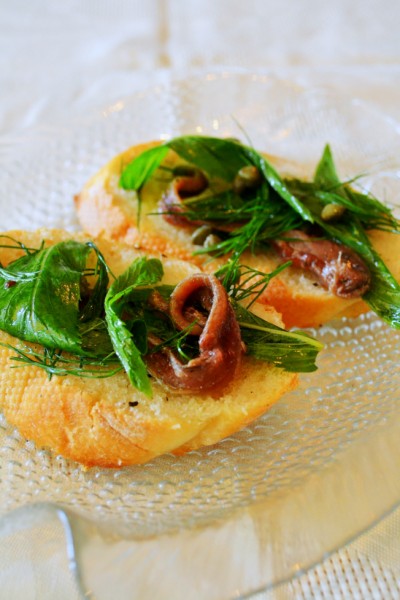 ANCHOVY & HERB SALAD CROSTINI
Anyone else craving Italian here lately? Try this recipe for an appetizer. It would pair well with a crisp white wine! Head over to our store today to purchase our Arbequina Olive Oil.
Cook Time
8 min
A delicious and salty appetizer.
Author: Donna Hay
Recipe type: Appetizer
Serves: 8
INGREDIENTS
16 white anchovy fillets
2 tablespoons lemon juice
1 tablespoon olive oil
1 tablespoon salted capers, rinsed
½ cup mint leaves
½ cup dill leaves
sea salt and freshly ground black pepper
8 slices from a baguette
olive oil
2 garlic cloves, chopped in half
INSTRUCTIONS
Preheat oven to 180C (350F).
Toss together anchovy fillets, lemon juice, olive oil, capers, mint and dill leaves.  Season with sea salt and freshly ground black pepper.
Place baguette slices on a baking tray lined with baking paper. Brush baguette slices with olive oil and sprinkle on sea salt and freshly ground black pepper.  Bake for 8 minutes.  Brush cut side of garlic cloves onto baguette slices (you may not need to 2 cloves, but my garlic broke into pieces before I got through the 8 slices so I needed more!) and top the slices with the anchovy salad.  Serve immediately.
Recipe and photo from: sweetestkitchen.com under the Creative Commons Attribution-NonCommercial 3.0 Unported License.