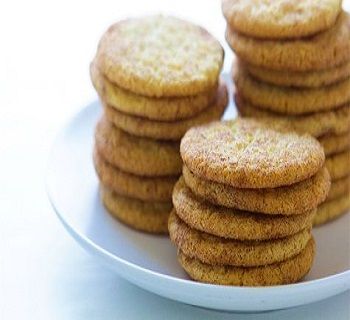 Sometimes Monday needs a little sweetness. Try our Arbequina Extra Virgin Olive Oil. 
Serves 26 to 30
⅔ cup pure olive oil
1½ cup granulated sugar
2 large eggs
2 tablespoons milk
1 teaspoon pure vanilla extract
½ teaspoon butter extract
2¾ cups flour
1 teaspoon baking soda
1½ teaspoons cream of tartar
½ teaspoon salt
CINNAMON SUGAR
½ cup granulated sugar
1 teaspoon cinnamon
Preheat oven to 375°F. Lightly coat large cookie sheets with olive oil cooking spray.
In mixer bowl add olive oil, sugar, eggs, milk, and vanilla & butter extracts. Blend until creamy.
Add flour, baking soda, cream of tartar, and salt. Blend until well mixed.
Roll dough into ping pong sized balls. Roll in cinnamon sugar and place on prepared cookie sheets.
Bake for 8-10 minutes or until cookies are spread out and tops are light brown.
CINNAMON SUGAR PREPARATION
In small mixing bowl, add sugar and cinnamon. Mix until combined.
Picture and recipe from: heavytable.com under a Creative Commons Attribution-NonCommercial-NoDerivs 3.0 Unported License