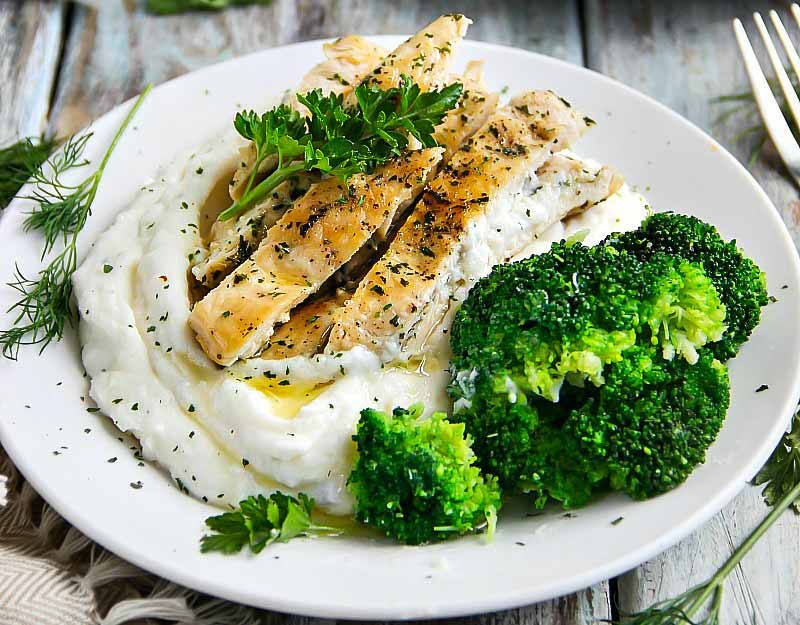 Skillet Fried Chicken Breast
This Skillet Fried Chicken Breast recipe is not only delicious but also full of flavor! You can enhance the flavor of the seasonings in this recipe with our Tuscan Herb Olive Oil.
Ingredients
1 Chicken breast halves (2 whole boneless, skinless chicken breast halves)
1 teaspoon kosher salt, divided
1 teaspoon fresh ground black pepper, divided
1 teaspoon dried parsley, divided
1 tablespoon olive oil
Directions
After chicken is deboned I like to cut each chicken breast in half lengthwise to make like fillets, not necessary but it cooks so much faster. Turn the breast over and, with the edge of a knife parallel to the cutting board, begin cutting down the length of the side of the breast. Slowly, with a sharp knife, slice the breast in half widthwise almost to the other edge.
Pound the chicken breasts with a meat mallet just for a bit, to tenderize the meat and ensure uniform thickness.
Sprinkle salt, ground black pepper and dried parsley on both sides of the chicken and let sit for about 10 minutes. You may cover it with plastic wrap/film if you wish.
Heat a skillet over medium-high heat, and add olive oil.
When the oil is heated, add chicken breasts over medium heat.
Allow about one minute (until lightly browned) before turning to the other side. You might need to turn it one or two more times before it is completely done. Do not overcook it because it will be too dry. If you do not split chicken breast in half makes sure to cook a little longer because it is a thicker piece of chicken and make sure to cook it at least 2-3 minutes on one side then turn on the other,
Transfer pan fried chicken onto a kitchen paper towel, and any leftover olive oil/ or chicken olive oil drippings serve over the mashed potatoes and chicken as a gravy.
Serve it with blanched broccoli and mashed potatoes 
How to blanch broccoli:
Bring a large pot of water to a rapid boil.
Add a 1/2 tablespoon of salt.
Add the broccoli florets and cook until crisp-tender, about 60 seconds.
Remove with a slotted spoon and plunge immediately into the ice cold water.
Recipe and photo from: www.sandraseasycooking.com under the Creative Commons Attribution 3.0 Unported License.