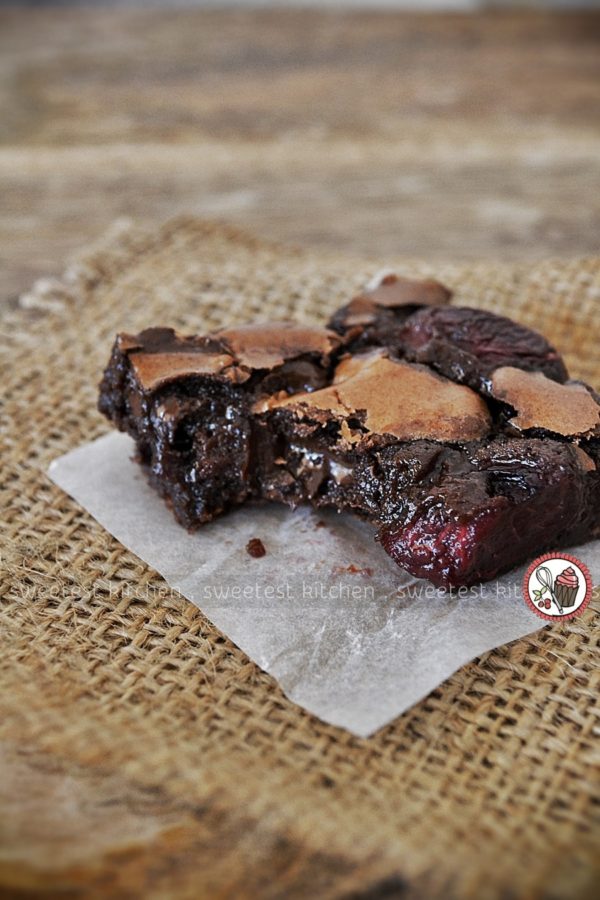 Extra Virgin Olive Oil Brownies With Fresh Cherries & Dark Chocolate Chunks
Treat your self to the warm and fruity sweet decadence of this Extra Virgin Olive Oil Brownies With Fresh Cherries & Dark Chocolate Chunks recipe! You can enhance the fruity flavor of this recipe with our Whole Fruit Blood Orange
INGREDIENTS
115g dark chocolate, 70% cocoa solids, finely chopped
⅓ cup (80ml) fruity extra virgin olive oil
2 large eggs, room temperature
¾ cup (150g) caster sugar
1 teaspoon pure vanilla extract
½ cup (70g) all-purpose
1 tablespoon Dutch-processed cocoa powder (natural will work as well)
⅛ teaspoon sea salt (or table salt)
70g fresh cherries, pits removed and cut into fourths
70g dark chocolate, 70% cocoa solids, chopped into bite-sized chunks
INSTRUCTIONS
Preheat the oven to 180°C/350°F. Lightly grease a 20cm (8-inch) square pan and line with parchment paper.
Place the finely chopped chocolate in a small heatproof bowl and melt it over a saucepan of barely simmering water (ensure the bowl does not touch the water). Whisk in the oil, then cool.
Using an electric mixer, whisk the eggs and sugar on medium speed until pale and thick, about 3 minutes. Fold in the vanilla and the cooled chocolate mixture, then fold in the flour, cocoa and salt. Lastly, gently fold in the cherries and the chocolate chunks. Stir briefly to combine. Spread the batter evenly into the prepared pan, it will be quite thick.
Bake for 20-25 minutes or until the top is dry and crackly, and a toothpick inserted in the center comes out a little wet. Cool completely, then cut into squares.
Recipe and photo from: www.sweetestkitchen.com under the  Creative Commons Attribution-NonCommercial 3.0 Unported License