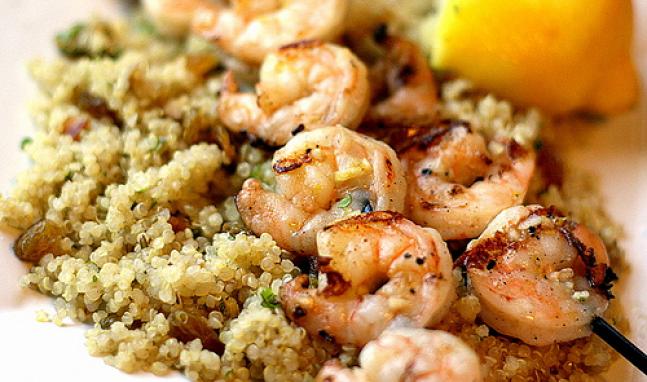 It's shrimp season! We promise this Shrimp and Quinoa will satisfy any seafood lover's flavor palate, especially if you use our Garlic Olive Oil!
Ingredients
For the quinoa
1 1/2 cups of water
1 cup uncooked quinoa
Quinoa preparation
In a large pot bring water to boil, then add in quinoa.
Cover and reduce heat to low and simmer for 15 minutes.
Once cooked remove from heat and set aide for 10 minutes or, until all liquid is absorbed.
*******************************************************************************
Rest of the dish
2 tablespoons olive oil
1 red onion, fine chopped
1/2 green bell pepper, fine chopped
1/2 cup sliced mushroom
6 asparagus spears, trimmed and evenly chopped
1/4 cup golden raisins
1 tablespoon minced fresh ginger root
1/4 cup of cilantro, fine chopped
1/4 cup dill, fine chopped
salt and pepper to taste
1 pound medium shrimp
2 tablespoons Olive Oil
Preparation
Heat olive oil in a skillet over medium heat and sauté the onion until translucent then add the green pepper until tender
Add mushrooms, asparagus, raisins, cilantro, dill and ginger and keep cooking until the asparagus is tender.
Season with salt and pepper.
Add in shrimp and cook until opaque.
In a large bowl, mix quinoa with the lime juice and remaining 2 tablespoons of olive oil. Toss with the skillet mixture and parsley to serve.
Picture and recipe taken from oliveandruby.com under a Creative Commons Attribution-NonCommercial-ShareAlike 3.0 Unported License.