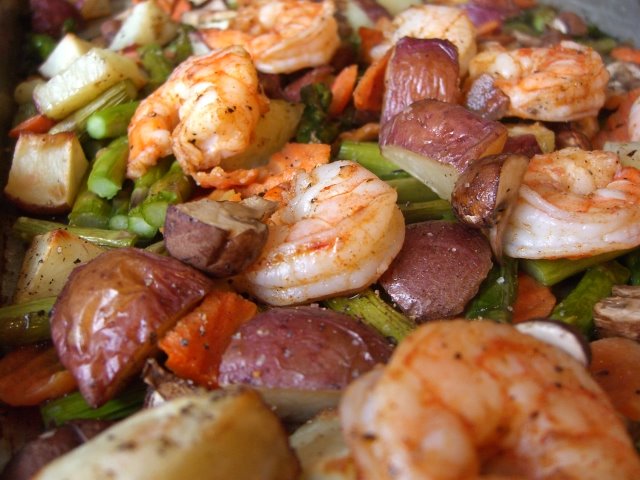 Roasted Shrimp and Balsamic Spring Vegetables
Do you love shrimp and spring vegetables roasted in balsamic? We do too! This recipe is not only simple to make but can also feed a whole family! You can make this dinner even more delicious by adding our Sicilian Lemon Balsamic!
Ingredients: serves 5
olive oil
salt
pepper
6 red potatoes, cubed in bite-sized pieces
1 pound asparagus, cut in 2-inch pieces
2 cups sliced carrots
2 cups quartered baby portebello mushrooms
2 tablespoons balsamic vinegar
1 1/2 pounds shrimp (21 – 25/pound) peeled and deveined
1 1/2 teaspoons grill seasoning
Instructions:
Preheat oven to 425 degrees.
On a large, rimmed baking sheet, place red potatoes and toss with about 2 tablespoons olive oil and sprinkle with salt and pepper. Roast for 20 minutes, stirring once.
Remove sheet form oven and add asparagus and carrots and drizzle with another tablespoon of olive oil and sprinkle with salt and pepper. Return sheet to oven and roast for an additional 15 minutes. Remove the sheet from the oven and add the portebello mushrooms and drizzle all the vegetables with balsamic vinegar. Return baking sheet to oven and roast for 5 minutes.
Toss the shrimp with the grill seasonings and place on top of the roasted vegetables. Return pan to oven and roast an additional 5 – 7 minutes or until the shrimp are cooked through. Remove pan from oven and serve in large bowls.
Photo and recipe from: http://dinnersforayear.blogspot.com under the Creative Commons Attribution-Noncommercial 3.0 United States License.