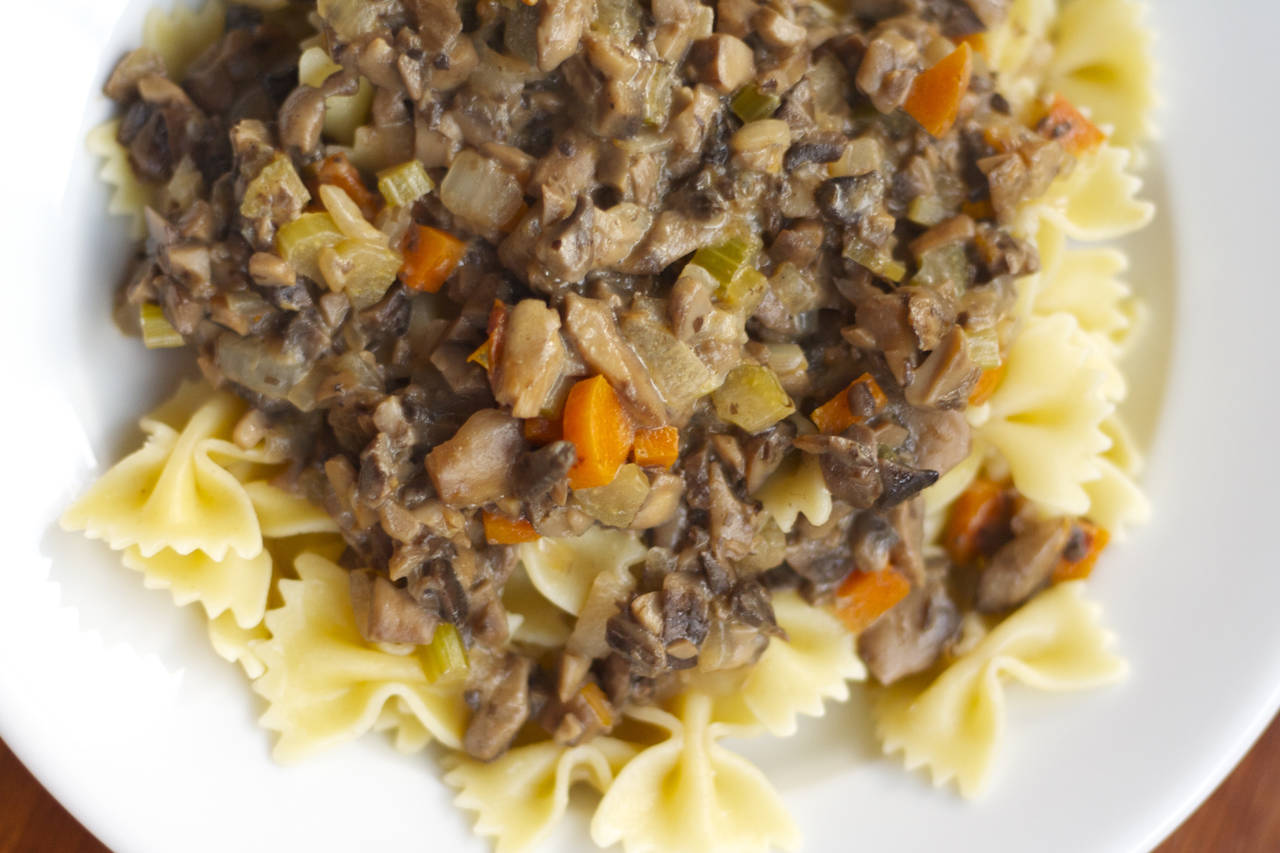 This thick, rich sauce has complex earthy aromas with satisfyingly chunky bites, yet is simple to make and is very low in fat and carbs. For the best results, use two to three different kinds of mushrooms for this dish. More complex mushrooms will give this dish a more nuanced flavor, but even plain white mushrooms will be delicious.
Prep: 15 min
Chill: 30 min
Total: 45 min
Serves 8
2 tablespoons olive oil (Our Truffle Olive Oil would be amazing!)
Heat olive oil in a large skillet over medium heat.
1 large yellow onion, finely diced
1 large carrot, finely diced
2 stalks celery, finely diced
½ teaspoon salt
Finely dice onion, carrot, and celery. Cook over medium heat until tender, about 6 minutes. Add salt while cooking.
2 tablespoons freshly chopped parsley
1 bay leaf
Add parsley and bay leaf to skillet, stirring to combine. Cook for 1 minute until aromatic.
½ cup diced tomatoes (about half tomato)
Add diced tomatoes and cook until tomatoes are started to break down, about 5 minutes.
Transfer vegetable mixture to a medium bowl.
2 pounds mixed mushrooms, such as white, shiitake, baby button
Wash mushrooms well to remove any residual dirt. Pat dry with a paper towel to remove as much excess water as possible. Slice mushrooms to ¼ to 1/8 inch thickness.
(If you are cooking pasta as well, boil the water for it now and prepare according to package instructions.)
1 tablespoon olive oil
1 tablespoon butter
Heat olive oil and butter over medium heat in now-empty skillet.
Sauté mushrooms until lightly browned, stirring frequently, about 8 to 10 minutes. As you cook the mushrooms they will release a fair amount of liquid. Drain and reserve ¾ cup of the liquid into a measuring cup, discard any excess liquid.
Remove from heat and transfer mushrooms to a cutting board. Finely dice mushrooms to the same size as the vegetables.
reserved mushrooms
reserved vegetables
¾ cup reserved mushroom juices, or water
¾ cup heavy cream
In now-empty skillet, combine diced mushrooms, reserved vegetables, reserved mushroom juices (or water), and heavy cream. Bring to a simmer of medium to medium-high heat and cook until liquid has reduced and sauce has thickened, about 15 minutes.
½ teaspoon salt, or to taste
¼ teaspoon pepper, or to taste
Add salt and pepper to taste. Remove bay leaf.
Spoon sauce over desired pasta.
Recipe and picture taken from the Makebetterfood.com under the Creative Commons License.