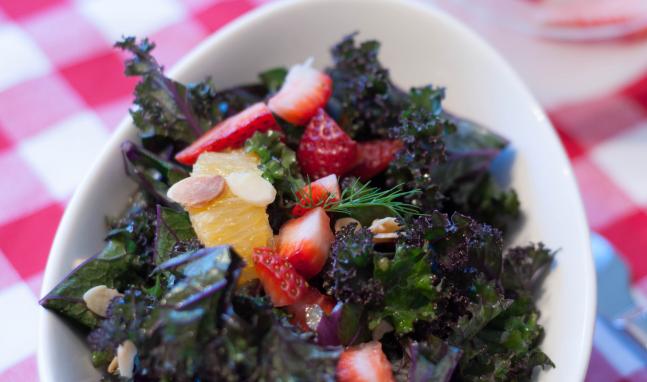 Kale, Strawberry and Orange Salad
Pack your lunch with this delicious Kale, Strawberry and Orange Salad. It's got all you need to help you finished your work day on a strong note! To enhance the fruit flavor of this recipe try our Whole Fruit Blood Orange Olive Oil.
Ingredients
1 bunch 

Fresh Kale, stems removes

1  Lemon
2 tablespoons Olive Oil
1  Orange, segmented
4  Strawberries, sliced
1 teaspoon Olive Oil
2 teaspoons Maple Syrup
1 pinch Salt & Pepper (to taste)
Instructions
Slice kale into thin strips, wash and dry thoroughly.
Take the 1/2 the juice of one lemon and combine it with the olive oil and salt. Massage into kale leaves until the leaves begin to wilt.
Remove skin and pith (white part) of the orange and slice into bite-sized segments. Slice strawberries into four and add to the orange segments. Then add both to salad.
Combine 1/2 the juice of lemon with maple syrup and a pinch of salt.  Pour onto salad with fruit and toss to coat evenly.
Top with toasted almonds just before serving
Recipe and photo from: oliveandruby.com under a  Creative Commons Attribution-NonCommercial-ShareAlike 3.0 Unported License.