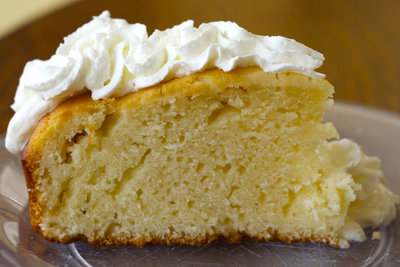 End your long day from work with a delicious slice of French Yogurt Cake! We promise that this recipe with satisfy any sweet tooth. You can even add a citrus flavor with our Whole Fruit Blood Orange Olive Oil.
Ingredients:
cooking spray
6 ounces vanilla yogurt (preferably full fat)
1 yogurt container of vegetable or canola oil (or ½ cup)
3 eggs
1 teaspoon vanilla extract
3 containers worth of flour (or 1 ½ cups)
2 containers worth of sugar (or 1 cup)
1 ½ teaspoons baking powder
1 pinch salt
Instructions:
Preheat oven to 350°F. Generously coat a 9′ cake pan with cooking spray and set aside.
Pour yogurt into a medium bowl.
Fill the now empty yogurt container with olive oil and add to bowl with yogurt.
Add three eggs and vanilla extra to bowl. Whisk to combine.
Wash and dry the yogurt container.
Add flour, sugar, baking soda, and salt. Mix to combine.
Pour into prepared cake pan. Bake at 350°F until cake is golden brown and a tester inserted into the center comes out clean, about 35 to 45 minutes.
Remove from oven and let cool on wire rack for 10 minutes. Invert cake onto a plate and let cool completely.
Serve with whipped cream and/or fruit. Store airtight at room temperature.
Recipe and photo from: makebetterfood.com under a Creative Commons License