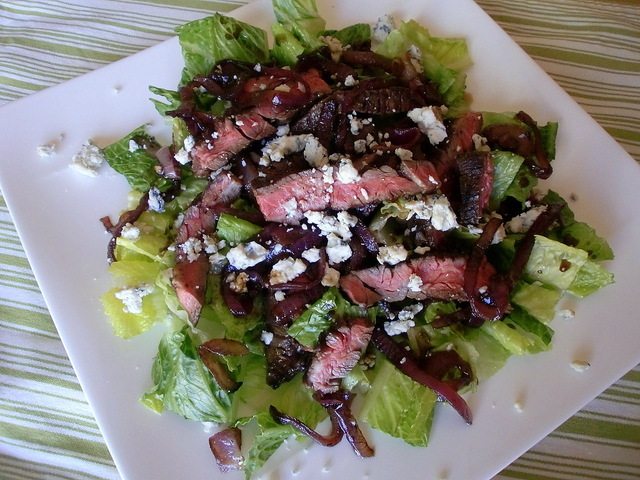 Balsamic Herb Steak and Red Onion Salad
Are you a steak lover who struggles with eating salad? Then we have the perfect recipe for you! This recipe combines the savory taste of steak with the freshness of salad to help you get your daily dose of protein and healthy vegetables. You can even increase the savory taste of this recipe with our Oregano Balsamic.
Ingredients
2 large red onions cut in ¼ inch slices
½ cup balsamic vinegar
2 garlic cloves, minced
2 tablespoons brown sugar
1 tablespoon Dijon mustard
2 tablespoons soy sauce
½ teaspoon dried oregano
½ teaspoon dried thyme
½ teaspoon dried basil
½ teaspoon pepper
1 cup olive oil
1 skirt steak, about 1½ pounds
about ½ cup crumbled blue cheese
8 cups of chopped romaine lettuce
Instructions
Preheat oven to 400 degrees. Line a baking sheet with foil. Place onions in a single layer on the baking sheet. Set aside.
In a mason jar, combine balsamic vinegar, garlic, brown sugar, Dijon mustard, soy sauce, oregano, thyme, basil, pepper, and olive oil. Screw on a tight fitting lid and give the marinade/vinaigrette a good shake. Pour about ⅓ cup of the mixture over the onions and toss to coat. Roast onions in oven for 25 – 30 minutes or until the onions are soft and slightly browned. Remove from oven and set aside.
While the onions are roasting, place the steak in a resealable bag and add ½ cup of the marinade/vinaigrette. Seal bag and marinate at room temperature for 15 minutes. Preheat a grill to high heat.
Remove the steak from the bag and discard the marinade. Place on the hot grill and cook without moving for 3 minutes for medium rare and 4 minutes for medium. Flip the steak over and grill for an additional 3 – 4 minutes. The internal temperature of the steak should be about 125 degrees.
Remove steak from grill and cover with loosely foil for 10 minutes.
After the steak rests, slice it against the grain in very thin slices. This insures that the meat will be tender.
To assemble the salads, place about 2 cups of the romaine on each of 4 large plates. Top with the sliced steak, roasted red onions, blue cheese and a drizzle of remaining balsamic herb vinaigrette.
Note – store any remaining vinaigrette in the refrigerator for up to 7 days.
Recipe and photo from: http://amycaseycooks.com under a Creative Commons Attribution-Noncommercial 3.0 United States License.