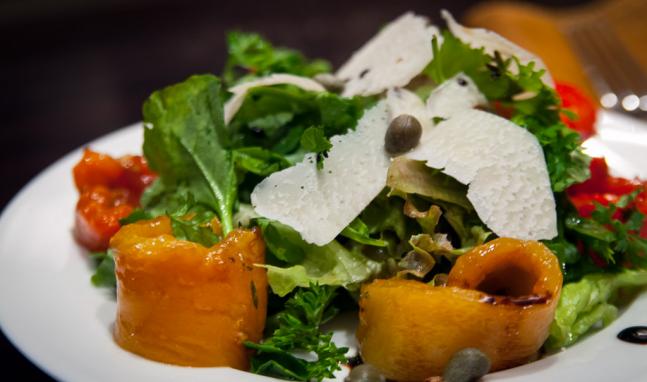 Marinated Bell Pepper Salad Recipe
Are you looking to detox from Valentine's Day? Then this Marinated Bell Pepper Salad Recipe is for you! It's rich in not only vegetables but also taste! You can even enhance this dish with our Wild Mushroom and Sage Olive Oil!
Ingredients
2  Red Peppers (Whole)
3 tablespoons Olive Oil
1 tablespoon Balsamic Vinegar
1 tablespoon Water
1⁄2 teaspoon Brown Sugar
3 cups Salad, Any type
2 ounces Gran Padano Cheese
Instructions
1. Preheat the oven to 375oF. Toss the peppers with 2 tablespoons of the oil and a little salt. Put in a roasting pan and roast for about 35 minutes, or until they soften and the skin is charred. Remove from the oven, put in a bowl and cover with plastic wrap. Once cooled to room temperature, peel the peppers and cut into thick strips.
2. Whisk together 2 tablespoons of the oil, balsalmic vinegar, water, sugar, thyme, garlic, and season with salt and pepper. Pour some of this mixture over the peppers and set aside for at least 1 hour, or overnight in the fridge. Set aside the remaining marinade.
3. Take the pepper strips out of the fride and drain before using. In a large bowl toss the basil, watercress, mache and spinach together, then add the the drained pepper strips, and capers. Dress the salad with the remaining olive oil, and as much of the marinade as you'd like. Taste and adjust the seasoning as needed.
4. Garnish with Gran Padano shavings and parsley.