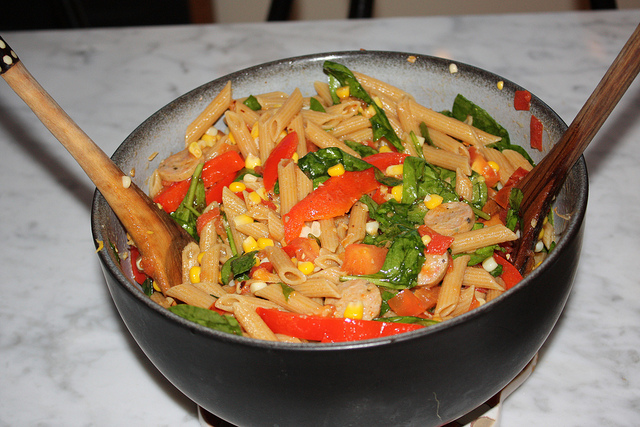 Garlic and Olive Oil Pasta with Veggies
This pasta recipe is the perfect addition for a summer night dinner! You can give this recipe an added kick with our Harissa Hot Olive Oil.
Ingredients
1 box whole grain penne (approx 14 oz)
2 red bell peppers, sliced
2 tomatoes, roughly chopped
2 ears of corn, corn cut off from cob
1/2 medium sweet onion, diced
6 oz jalapeno chicken sausage, sliced (optional)
1/2 cup olive oil, plus 1-1/2 tablespoons for veggies
5 garlic cloves, minced
1 tablespoon crushed red pepper flakes
1-1/2 to 2 teaspoons salt
4 to 5 handfuls of baby spinach
parmesan cheese, for serving
Directions
In a large high sided skillet heat 1-1/2 tablespoons of olive oil over medium high heat. Add red peppers, tomatoes, corn and onion and cook for about 5 minutes, stirring occasionally. Add sausage and reduce heat to medium, cover pan and cook for approximately 7 to 10 more minutes, until veggies become tender. Remove veggies from pan, set aside in a bowl and cover (I used the same bowl I was using to serve to dirty fewer dishes).
Cook penne according to package directions.
Meanwhile, using same high sided skillet that veggies were cooked in, heat 1/2 cup olive oil over medium low heat. After 3 minutes, add garlic, red pepper flakes and salt. Stir sauce occasionally, and cook for about 5 to 8 more minutes.
Add cooked pasta to bowl with veggies, and then mix in garlic and olive oil sauce. Mix in baby spinach, it will shrink down once you stir it into the warm pasta.
If desired, top with parmesan cheese when serving.
Recipe and Photo from: www.kissmywhisk.com under a Creative Commons License.