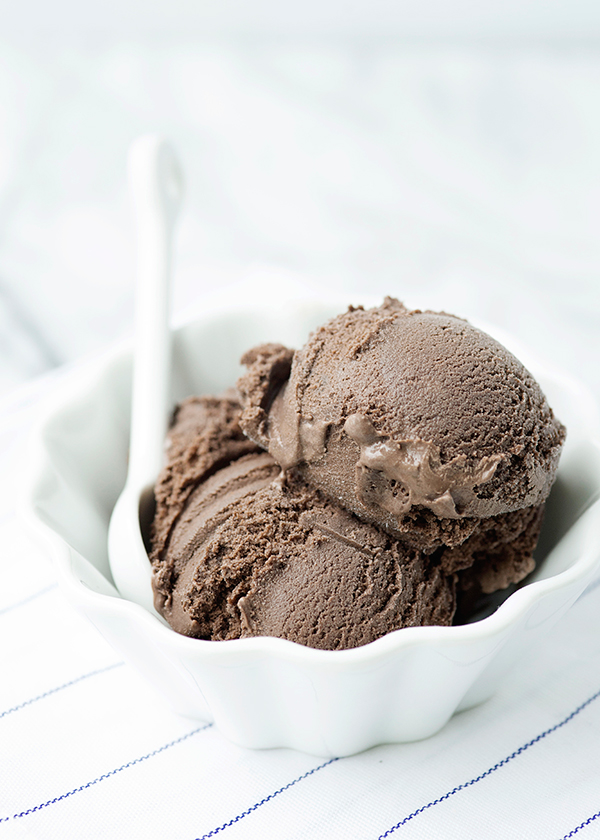 Baked Bree's Dark Chocolate Ice Cream with Blood Orange Olive Oil
INGREDIENTS

5 egg yolks
¾ cup sugar
¼ cup Dutch-processed cocoa powder
1 cup 2% milk
1¾ cup heavy cream
¼ teaspoon salt
1 teaspoon vanilla

SAM'S SUNDAE

Dark Chocolate ice cream
Bergamot olive oil (I used blood orange – amazing)
Freshly whipped cream
Maldon Sea salt

INSTRUCTIONS

In a heatproof bowl, whisk together egg yolks and 6 Tablespoons sugar. Set aside.
In a saucepan, whisk together cocoa powder and other 6 Tablespoons of sugar. Whisk in ¼ cup of the milk to make a thick paste.
Whisk in remaining milk, cream, and salt.
Heat over medium high heat, and remove when bubbles form around the edges.
Remove from the heat, and whisk in ½ cup of the hot cream. Whisk constantly, to avoid cooking the eggs.
Add another ½ cup of the hot cream to temper the yolks.
Pour the yolk mixture into the saucepan. Cook over medium heat, stirring constantly until it coats the back of a spoon. You will be able to run your finger down the middle, and it will hold a clear path. Cook for 1 minute longer.
Strain the base to catch any bits. Add vanilla.
Pour into a container and place in an ice bath. Stir occasionally, and when it has cooled, covered with plastic wrap and chill for at least 2 hours or overnight.
Freeze in your ice maker according to the manufacturer instructions.
Transfer to a freezer-safe container to freeze until firm.